Love Aagoythe lyrics from The Villain. Love Aagoythe song lyrics are written by Prem, the music is composed by Arjun Janya and the song is sung by Prem. Love Aagoythe song is released by the record label Anand Audio which features Sudeep, Shivrajkumar, Amy Jackson.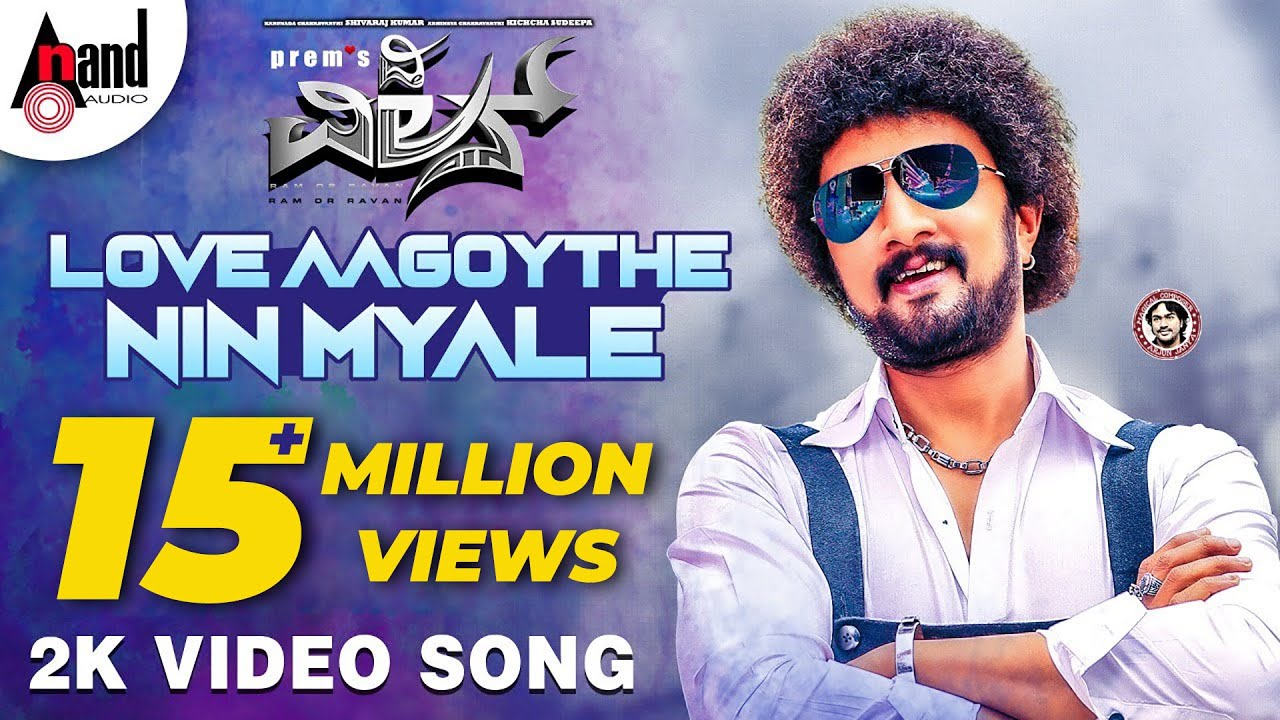 "Love Aagoythe – The Villain" Song Info
Banner
TANVI SHANVI FILMS
Record Label
AANANDA AUDIO VIDEO
LOVE AAGOYTHE LYRICS
Aithalakadi Pakadilakadi Jumma
Kaddu Hothkondu Hoithaan Nodu Gumma
Anjaneya Baaro Elliddiya..
Gadeya Thandu Avana Hodedaakayya..
Kallepuriyanu Kaddu Thandiruve Baaro.. Baaro..
Raod Al Ninthu Kaailu Illaa..
Hinde Munde Suthlu Illaa..
Maathig Sidegey Kariley Ilvallee.. He He Hey..
Mundak Hel Le
Avvung Hel'lu Illa
Appan Kel'lu Illa
Love Aagoythe Nin Myaale..
Love Aagoythe Nin Myaale.. Hey Hey
Kalla Krishna
Gopi Krishna
Radhe Krishna Hoi
Benne Kadda Muddu Krishna
Radhe Krishna Hoi..
Gopikeya Seere Kaddu
Draupadige Daana Kotta
Naa Pillangovi Oodle Illa..
P.T Madame Kalsilla
Adakke Avlu Oodlilla
Neenu Paarivaala Kalslu Illa
Facebook Watsapp Ittalla
Adakke Avlu Kalsillaa
Love Letter Antu Nange Neenu Bardu Illa
Radhe Bandu Ninna Bagge Hel'lu Illa
Gudiya Katti Yaaru Poojislilla
Nam Ibbara Preethi History Alla.. Aa Aa…
O.. Hangaaitha..
Neene Rukku Alla..
Naanen Krishna Llaa..
Love Aagoythe Nin Myaale..
Love Aagoythe Nin Myaale.. Hey Hey
Vare Vaare Vaarevaareva
Rama Banda Node
Vare Vaare Vaarevaareva
Jineken Thanda Node
Sananana Sananana Sananana Sananana
Sananana Sananana Na..
Naanu Billu Gillu Murile Illa
Mummy Boostu Kodlilla
Adakke Muriyak Aaglilla
Ninna Kaadag Karkondu Hoglu Illa
Dinosauras Ittalla
Adakke Karkondu Hoglilla
Jinke Beku Antha Neenu Kelu Illa
Ravana Bandu Ninna Hotkondu Hoglu Illa
Kapi Sainyava Katti Hudukaadlilla
Lanke Suttu Raavnan Kollu Illa..
Ayyaayoo Munde
Neenen Seethe Alla
Naanene Rama Alla
Love Aagoythe Nin Myaale..
Love Aagoythe Nin Myaale.. Hey Hey
Ho Ho Ho..
"Love Aagoythe – The Villain" Song Video