Rekke Aaguve lyrics from Aatakkuntu Lekkakkilla Kannada movie. Rekke Aaguve is a Kannada song from the movie Aatakkuntu Lekkakkilla, a Horror genre released in 2019. Vasuki Vaibhav has worked on Rekke Aaguve song lyrics and the music is composed by Nobin Paul. The song is being sung by Vasuki Vaibhav. Rekke Aaguve video song features Vijay Sanchari and Mayuri Kyatari in a lead role. Zee Music South holds the record label for Rekke Aaguve Kannada song.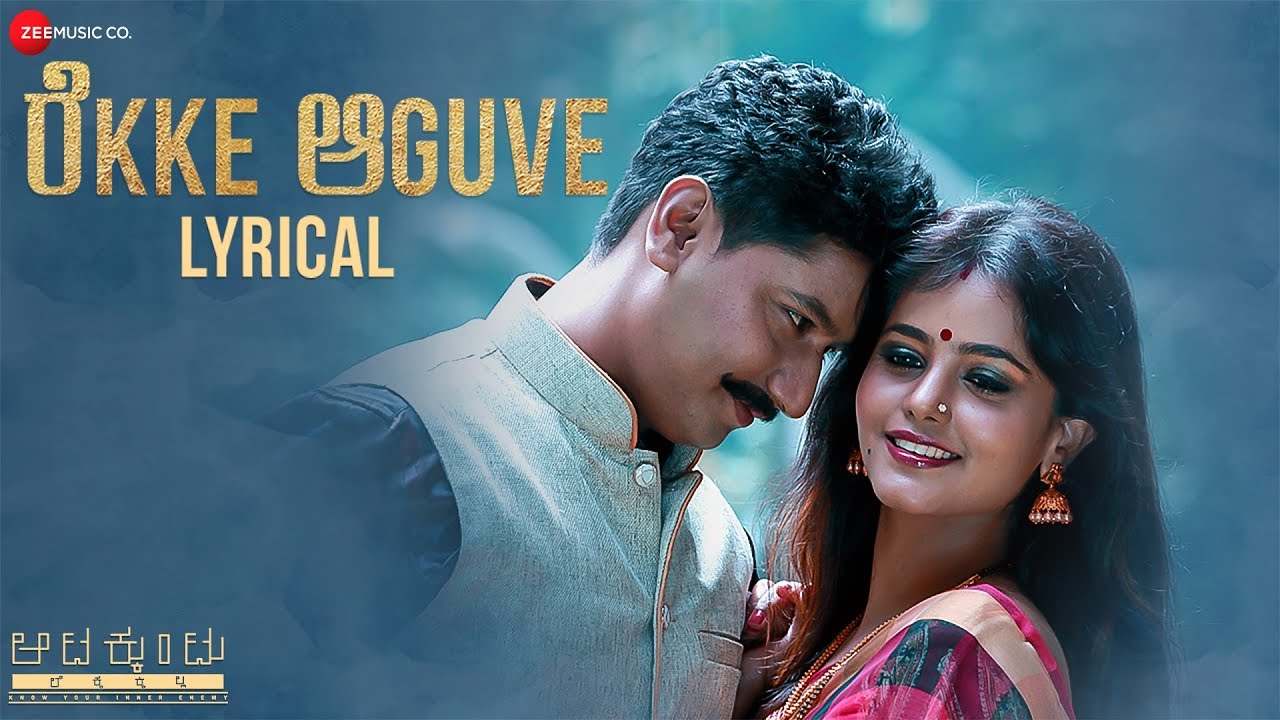 "Rekke Aaguve – Aatakuntu Lekkakkilla" Song Info
Music Composer
Nobin Paul
Backing Vocals
Harsha Ranjini, Chinmayee, Nobin Paul
Guitars
Sumesh Parameshwar
Wood Winds
Rajesh Cherthala
REKKE AAGUVE LYRICS
Neene Nanna Vedane
Innu Neene Nannella Nivedane
Neene Taane..
Nanna Jeeva Soochane
Nannallide..
Ninne Holo Kalpane
Aalisu, Nasu Naachuta
Nannella Bannane..
Rekke Aaguve!
Nee Haaro Velege Naanu
Oh Oh..
Reppe Aaguve!
Konevaregu Ninna Baala Kaayuve
Tudigaalali Nintide Hrudaya
Kanasellava Teredidalu
Sanna Sanna Sogasina Udaya
Kanna Munde Neeniralu
Bere Ellava..
Naa Neneve Ninna Nantara
Ninage Soluva..
Varava Naa Koruve Devara
Badukina Thumbavu Neenerede
Badukali Hege Na Neenirade
Bavanegalellava Nee Thorede
Neene Nanna Kushi Ellavu
Ninna Mungurula Thoogo Gaaliyu
Naane Aaguve..
Ninna Mumbaruva Novigu Indu
Naane Maaguve..
Angayya Meliruvudella
Ninna Thoruva Rekhegalu
Angaalina Nadigegalella
Ninna Seruva Daarigalu
Haneya Melina.. Holeva Taareyaaguve
Samaya Sotharu..
Ninna Naguvaagi Saaguve
Nanna Kanasellaku Neene Hone
Neene Adara Shuru, Neene Kone
Badalithu Ninna Kandu Nanna Bene
Neene Nanna Kushi Ellavu
Irulalu Kaanuva Holapadu Neenu
Nannaya Paalige..
Iruvenu Naanu Talupalu Ninna
Ulida Baalige..
Neene Nanna Yochane
Innu Neene Nannella Yojane
Neene Taane..
Olava Soochane
Nannallide..
Ninne Holo Kalpane
Aalisu, Nasu Naachuta
Nannella Bannane..
Rekke Aaguve!
Nee Haaro Velege Naanu
Oh Oh..
Reppe Aaguve!
Konevaregu Ninna Baala Kaayuve
"Rekke Aaguve – Aatakuntu Lekkakkilla" Song Video
Song :
Rekke Aaguve
Movie :
Aatakkuntu Lekkakkilla
Singer :
Vasuki Vaibhav
Music Composer :
Nobin Paul
Backing Vocals :
Harsha Ranjini, Chinmayee, Nobin Paul
Lyrics :
Vasuki Vaibhav
Guitars :
Sumesh Parameshwar
Wood Winds :
Rajesh Cherthala
Percussion :
Sandeep